Our Company
As the Coupon API that touches over 20 million US consumers, we focus on delivering discounts, coupons and other content to enhance our clients' programs in a flexible, streamlined, and cost-effective manner.

We quietly work behind the scenes to fuel rewards, loyalty and member benefit programs with some of the best merchant discounts available...managing all aspects of the offer content and delivery through our simple Coupon API solution.
What Makes Us Different?
In our network, we help target merchant discount offers to your employees, custoumers, cardholders or members by life stage.  It's one of the more powerful components of our platform.  We all know that buying behavior shifts dramatically when people come into or out of a particular life stage.  Shouldn't your organization and program be there to help your members save money during those key life transitions?
The Stage of Life Coupon API was born out of a need for organizations to get access to a high-touch coupon and discount program solution whose coupon and merchant content is completely customizable for each specific client and its audience. 
Our Founder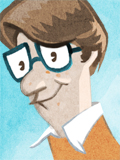 Founder and CEO of Stage of Life LLC, Eric Thiegs is a 14-year veteran of the member benefits, partnership marketing, and merchant funded discounts/rewards arena.
He's worked on building merchant funded partnerships for Fortune clients including Verizon, HSBC, Best Buy, Hawaiian Airlines, VISA U.S.A., Discover Card, CapOne, NEA State Education Associations, Wyndham Resorts, Transamerica, TracFone, and others.
In total, Thiegs has personally negotiated over 1,500 merchant funded partnerships, sponsorships, and discounts on behalf of his clients.
Last year, the discount and merchant funded offers negotiated on behalf of his clients touched over 70 million US consumers - with 20 million of them having access to the offers through the Stage of Life Coupon API.
Thiegs launched Stage of Life® and the Stage of Life Merchant Network in 2009.  Stage of Life LLC and its operational team operate out of York, Pennsylvania, where Eric lives with his wife and two daughters.